Tanner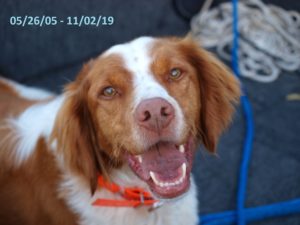 Tanner peacefully left this earth for that big hunting field in the sky in November 2019.  He was a good dog.  In May 2005 we eagerly awaited news for Tanner to be born.  At home he was always exploring and getting into mischief.  In the field he was a great hunter with boundless energy and for 14 seasons he made each hunt exciting for everyone.  His points were perfection, even when it wasn't a pheasant.  Over the years he pointed everything from rabbits to deer, over a dozen different critters in all.  In his golden years he still eagerly went on walks with his best friend Bella.  He was a great watch dog till the end.  He will be missed, but never forgotten.  So long, buddy.
Ringo
2004-2020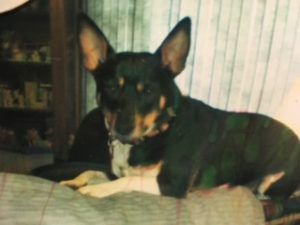 Emma
2007-2017
Stitch
                                      Maui                                                                              Raleigh
Kobee and Butch
It is said that dogs are our favorite hello and our hardest goodbye. That sums up our wonderful rescues, Kobee and Butch. They were the best of friends who shared a bed, toys and a love of rolling around in the grass on sunny days, and making snow angels. Butch died in May 2018 and it was hard on Kobee; we said goodbye to him in October 2018. I like to think they're together again, finding smelly things to roll around in and chipmunks to chase. We miss them terribly but are thankful for the time we did share together and for all the wonderful care they received from MVPH staff.
Thank you, Roberta and Jerry
Willow
March 5, 2007 to October 22, 2018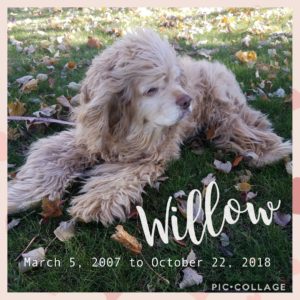 Willow and I have been through a lot. I was still in college when I got her as a mother's day present while I was pregnant with my first child 11 years ago. She was a very happy and spirited dog. Although only 25 pounds, when put outside on a chain that was strong enough to tie even a 100 pound lab, if she saw a cat, a rabbit, or even just a leaf, she'd go after it with such force that she'd break any chain we tied her on. She was gentle with my son, even with all his poking, prodding, and pulling on her fur. She'd sit by the door every day just waiting for me to get home. She'd start falling asleep, then catch herself, readjust, and just keep waiting until I came in the door. When she saw me, she turned into a wiggly ball of fur, and would not leave my side until morning. She always knew when something was bothering me, and was always there when I needed a good snuggle or cry. In the last year, she lost most of her sight and hearing. It took some time to adjust, but we made it through that as well. Letting her go was one of the hardest things I've ever done, but it was also the kindest thing I could do for her. I love you Willow, and will never forget you.
Tinker
Tinker was a sweet and loving cat;  she loved giving kitty kisses. She loved to lay in the window and steal Oreo cookies from mom.  Tinker loved to play with her sister.  You are so loved and so very missed.  Till we see you again….mama loves you.
Madi and Mia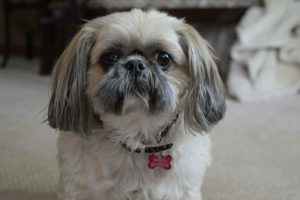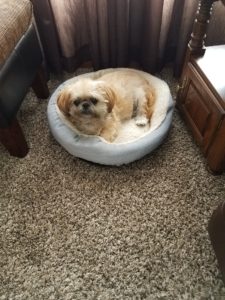 These two shih-tzu girls are missed daily.  We know they are together in heaven knowing how much we love them.
Hvoll  (11/1/02 – 1/18/18)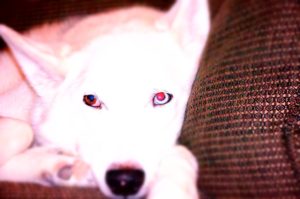 Always the most popular kid in the crowd, his name always mispronounced, Hvöll (pronounced Cole in Icelandic) was the friendliest and most gentle dog, ever. He loved baby animals, whether it was a bird, or a human, or a frog, and he raised an adopted kitten by himself…he was a great mama. People would always comment how gorgeous he was, and I'd always joke that he got his looks from me. I wish. I adopted him at 2, and we had 14 great years together. I reluctantly brought him home for ONE night at the request of a friend, and we instantly became best friends. He's never left my side since, until I had to let him go. He'll always be my Best Boy.
Baby Girl (Jul 22, 2002 – Dec. 29, 2017)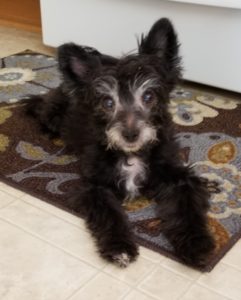 Our hearts are still broken and we miss you so much Baby Girl. We are so grateful for your 15 + years of unconditional love, kisses and snuggles. RIP dear friend…until we meet again!😍
Eddie  (Sept. 20, 2001 – Sept. 12, 2016)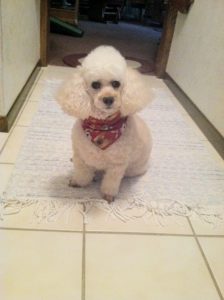 In the late fall of 2001, I picked up a small apricot colored furball, whose ears were a darker red than the rest of his body.  He was intended to be a Christmas gift for my dad, and was therefore given the name Eddie, short for my dad's middle name Edward.  On the day I was to surprise my dad with Eddie (my mom was in on the idea from the beginning), I gave him a bath and tied around his neck the largest red velvet bow Target sold.   When I opened the door with Eddie in my arms, my dad's normally stoic face broke out into a huge grin – I couldn't recall the last time I'd seen him that happy!  The two immediately took to each other, and their unwavering bond was forged.   Eddie became Dad's shadow, and earned the affectionate nickname of Bud.  Eddie looked forward to bringing my dad toys to play with each morning and just before bed; he had a habit of barking at my dad from the hallway between the kitchen and living room until my dad got out of his chair and went into the kitchen to get Eddie a treat.  He would also stare patiently at my dad while waiting for my dad to share the last bite of a cookie with Eddie.  On any given day, you could find Eddie wedged dutifully next to my dad in his recliner; when he got too hot there, he sat on top of my dad's extended legs before returning to the spot by the armrest.  Eddie can best be described as a small, furry version of my dad.  Over the course of Eddie's nearly 15 years of life, it seemed that whatever Dad did, Eddie did too.  Both of them had big hearts and big personalities that could fill a room; both of them enjoyed sitting in the sun, going for car rides, eating cookies, and watching sports on television.  Unfortunately their similarities extended beyond pastimes to their health; both of them were diagnosed with lung cancer, and both of them had heart disease.  While it was the lung cancer that took my dad's life, it was heart failure that took Eddie's.  Even though our hearts hurt when we think about what we have lost, we are comforted knowing that Dad and Eddie are together again.
Kena (6/22/2005 – 10/14/2017)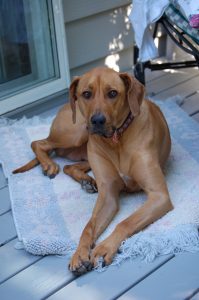 After nearly a year of research on dog breeds, training, and how to select the right dog, I welcomed brought home an 8 week-old Rhodesian Ridgeback I named Makena (Kena for short).  Kena and I settled into a comfortable routine of dog classes, daily walks around the park, and as she got older and stronger, trail runs.  She accompanied me on camping and hiking trips, to the homes of my friends, and on play dates with other dogs. Kena's level of enthusiasm for going for walks can only be described as gleeful!  She vocalized her enthusiasm with the strangest noises that can only be described as Chewbacca-esque.  Once outside, she would prance and hold her head up high, just happy to take in the smells, the critters, and the warmth of the day.  In addition to being outside, Kena had a deep love of salmon, lobster, roasted chicken, beef and carrots – she even learned how to take delicate bites from a fork!   But above all else, she absolutely adored her grandparents.  From the moment we turned onto their street, she would become alert, and couldn't wait to jump out of the car and run to the front door to see them.  She had special traditions with each of her grandparents that endeared them to her, but she enjoyed the closest bond with my mom, who she lived with for the last year of her life.   Kena wasn't overly affectionate or one for great shows of emotion, but she was fiercely loyal and protective, and will always be remembered for her gentle spirit and kindness.  I was blessed to have my sweet Kena with me for over 12 years – and fortunate enough to be with her when she passed away peacefully at home, on her favorite bed, surrounded by the people she loved most.  Until I am able to be with her again, I know Kena has got my dad and Eddie looking out for her.   "What we have once enjoyed deeply we can never lose. All that we love deeply becomes a part of us."  Hellen Keller
Parker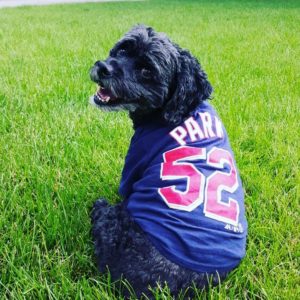 Parker Jay Benson was the runt of his litter, and the last puppy to find a home. However, that home was with my family, and he fit in perfectly. Parker and his half-brother, Jacob, became inseparable. They would team up to steal a piece of pizza off my plate, pull me around rollerblading, or eat mouthfuls of snow in the winter. After Jake passed, Parker became glued to my hip. He was my partner in crime, and enjoyed camping, naps, and making new friends. His personality was that of someone who had lived centuries with all the wisdom to show for it, but you had listen closely, because he was a quiet soul with a shy side. He got along with every human or dog he met, and I learned so much from him. I am so grateful to have had him in my life for 13 and a half years. But, I'm sure his brother Jake has been waiting for him, so rest easy you two, momma misses you.