Hvoll  (11/1/02 – 1/18/18)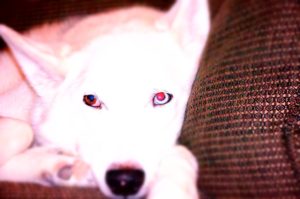 Always the most popular kid in the crowd, his name always mispronounced, Hvöll (pronounced Cole in Icelandic) was the friendliest and most gentle dog, ever. He loved baby animals, whether it was a bird, or a human, or a frog, and he raised an adopted kitten by himself…he was a great mama. People would always comment how gorgeous he was, and I'd always joke that he got his looks from me. I wish. I adopted him at 2, and we had 14 great years together. I reluctantly brought him home for ONE night at the request of a friend, and we instantly became best friends. He's never left my side since, until I had to let him go. He'll always be my Best Boy.
Baby Girl (Jul 22, 2002 – Dec. 29, 2017)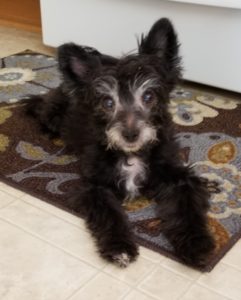 Our hearts are still broken and we miss you so much Baby Girl. We are so grateful for your 15 + years of unconditional love, kisses and snuggles. RIP dear friend…until we meet again!😍
Eddie  (Sept. 20, 2001 – Sept. 12, 2016)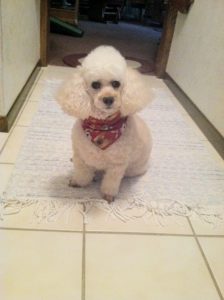 In the late fall of 2001, I picked up a small apricot colored furball, whose ears were a darker red than the rest of his body.  He was intended to be a Christmas gift for my dad, and was therefore given the name Eddie, short for my dad's middle name Edward.  On the day I was to surprise my dad with Eddie (my mom was in on the idea from the beginning), I gave him a bath and tied around his neck the largest red velvet bow Target sold.   When I opened the door with Eddie in my arms, my dad's normally stoic face broke out into a huge grin – I couldn't recall the last time I'd seen him that happy!  The two immediately took to each other, and their unwavering bond was forged.   Eddie became Dad's shadow, and earned the affectionate nickname of Bud.  Eddie looked forward to bringing my dad toys to play with each morning and just before bed; he had a habit of barking at my dad from the hallway between the kitchen and living room until my dad got out of his chair and went into the kitchen to get Eddie a treat.  He would also stare patiently at my dad while waiting for my dad to share the last bite of a cookie with Eddie.  On any given day, you could find Eddie wedged dutifully next to my dad in his recliner; when he got too hot there, he sat on top of my dad's extended legs before returning to the spot by the armrest.  Eddie can best be described as a small, furry version of my dad.  Over the course of Eddie's nearly 15 years of life, it seemed that whatever Dad did, Eddie did too.  Both of them had big hearts and big personalities that could fill a room; both of them enjoyed sitting in the sun, going for car rides, eating cookies, and watching sports on television.  Unfortunately their similarities extended beyond pastimes to their health; both of them were diagnosed with lung cancer, and both of them had heart disease.  While it was the lung cancer that took my dad's life, it was heart failure that took Eddie's.  Even though our hearts hurt when we think about what we have lost, we are comforted knowing that Dad and Eddie are together again.
Kena (6/22/2005 – 10/14/2017)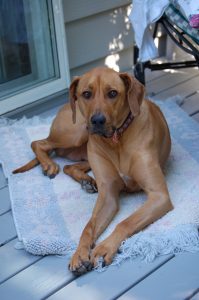 After nearly a year of research on dog breeds, training, and how to select the right dog, I welcomed brought home an 8 week-old Rhodesian Ridgeback I named Makena (Kena for short).  Kena and I settled into a comfortable routine of dog classes, daily walks around the park, and as she got older and stronger, trail runs.  She accompanied me on camping and hiking trips, to the homes of my friends, and on play dates with other dogs. Kena's level of enthusiasm for going for walks can only be described as gleeful!  She vocalized her enthusiasm with the strangest noises that can only be described as Chewbacca-esque.  Once outside, she would prance and hold her head up high, just happy to take in the smells, the critters, and the warmth of the day.  In addition to being outside, Kena had a deep love of salmon, lobster, roasted chicken, beef and carrots – she even learned how to take delicate bites from a fork!   But above all else, she absolutely adored her grandparents.  From the moment we turned onto their street, she would become alert, and couldn't wait to jump out of the car and run to the front door to see them.  She had special traditions with each of her grandparents that endeared them to her, but she enjoyed the closest bond with my mom, who she lived with for the last year of her life.   Kena wasn't overly affectionate or one for great shows of emotion, but she was fiercely loyal and protective, and will always be remembered for her gentle spirit and kindness.  I was blessed to have my sweet Kena with me for over 12 years – and fortunate enough to be with her when she passed away peacefully at home, on her favorite bed, surrounded by the people she loved most.  Until I am able to be with her again, I know Kena has got my dad and Eddie looking out for her.   "What we have once enjoyed deeply we can never lose. All that we love deeply becomes a part of us."  Hellen Keller